Read about the IELTS Exam details in 2021 covering the syllabus, pattern, preparation tips & result sheet analysis in the latest blog by GT Prep to score an overall Band 8.0 in IELTS .The IELTS Exam is a test of the English language, that students who wish to work or study in English speaking countries are required to take to demonstrate their ability to communicate effectively in the language. Some of the popular English speaking countries where IELTS test scores are part of eligibility condition for admissions are UK, New Zealand, USA, Australia, and Canada. The exam chiefly measures how well the student can communicate in each of the four basic language skills – reading, speaking, listening, and writing in English. The number of IELTS takers has been steadily increasing and has grown to more than 3.5 million people including both students and those taking the test for immigration purposes.
The IELTS accepted for admission at all universities in the United Kingdom and Australia. The test is also accepted at more than 3,000 educational institutions in the United States and many others in English speaking countries.
Who Should Take The IELTS Exam?
The IELTS Exam is required if you want to study in any English speaking country or you want to immigrate to the same countries. The IELTS is the only test of English that is approved by the UK Visas and Immigration (UKVI) for visa applications both from within UK and outside it. An IELTS is an excellent choice for students for the following reasons
You can show that you have a good ability to communicate in English
The IELTS is accepted by most of the universities across the world
The IELTS is required by many countries for processing student visa or work visa
Types of IELTS Exams
There are two types of IELTS exam:
IELTS Academic Test
IELTS General Test
The Speaking and Listening sections of the test are the same for both. The syllabus for writing and reading sections will differ depending on the test one takes.
The Writing, Reading, and Listening sections can be completed on the same day of the test. You can however complete the speaking section, within a week of before or after the date of the test.
The tests can be taken either on a computer or through a paper and pencil test
IELTS Cost
The IELTS Exam costs around 13,250 INR to take in India.
IELTS Eligibility
There are no minimum criteria for taking the IELTS in 2020.
You will need to have a basic understanding of English in order to attempt this test.
IELTS Minimum Score
There is no standard minimum score for IELTS test, but each university will have a different set of requirements.
[Read about: The Seven Habits of Success in IELTS Test]
IELTS Exam Pattern
The exam pattern of IELTS is made up of the following four sections
Listening – 30 minutes
Reading – 60 minutes
Speaking – 11 to 14 minutes
Writing – 60 minutes
                            Table showing Exam Pattern for IELTS Academic
| | | | |
| --- | --- | --- | --- |
| Sections | Duration | Total Number of Questions | Marks per Question |
| IELTS Listening | 30 minutes | 40 | Each question carries 1 mark |
| IELTS Reading | 60 minutes | 40 | Each question carries 1 mark. |
| IELTS Writing | 60 minutes | 2 | Scores are reported in whole and half bands |
| IELTS Speaking | 11 – 14 minutes | 3 | Scores are reported in whole and half bands |
| Total | 2 hours & 45 minutes | 85+ | IELTS results are on 9-Band Scale |
The test pattern can change from year to year and therefore you should check the pattern before you take the test
IELTS Syllabus
Reading section of IELTS
This section will comprise of three long passages, which can range from factual to fictional. The analysis section can also include, non-verbal content such as graphs and diagrams. You will need to comprehend the text or interpret the diagrams and answer the questions that follow.
Writing section of IELTS
The writing task will last for 60 minutes and you will need to write at least 150 words in task 1, where you will have to describe or explain the data that is given in visual format. You will also have another task, Task 2 to write a short essay on a given topic of 250 words. A good score in this section can boost your overall score. Look at tips to get good score in IELTS Writing
Speaking section of IELTS
The speaking section will comprise of a face-to-face interview which will include answering short questions, or speaking about a familiar topic.
IELTS Exam Preparation Tips
You will need to prepare for the overall IELTS Exam Syllabus thoroughly in order to get a good score on your IELTS. Also preparation for IELTS can be stressed-full and hard especially if English is not our first language. Thus, it's important to be calm and stress-free in the last-minute preparation for IELTS to achieve a good score. Follow these preparation tips for each section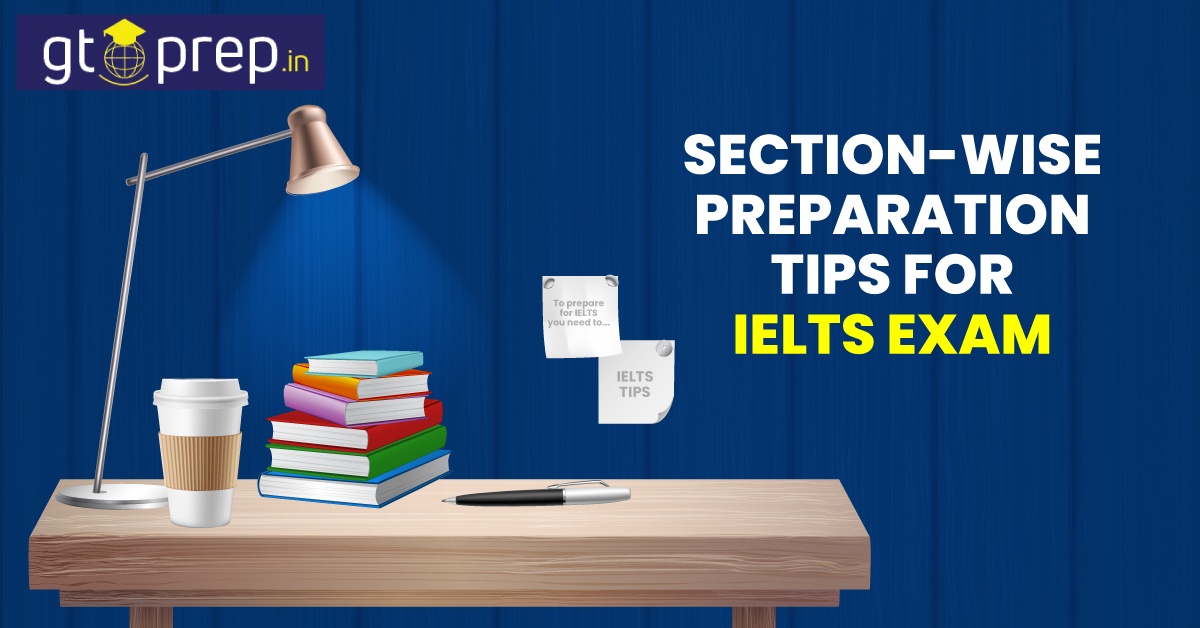 IELTS Listening Section Preparation Tips
Listen to various radio programs, podcasts, newscasts, and audio lectures
Watch movies and soap operas in English.
Listen to the audio instructions of each section
Read the instructions that are given in the test booklet carefully on the IELTS Test Date.
Underline the keywords and listen to the synonyms to make it easy to summarize
Check all your answers during the pause time between sections
IELTS Reading Section Preparation Tips
Read different types of reading materials including magazines, journals, newspapers, and books in English.
Try to guess the meaning of words you don't know from the context of the text
Keep up with the latest news and current affairs as well as debates that are going on about them.
Familiarize yourself, with the IELTS test types that you want to take, and the questions that can come in it
Practice taking timed tests and completing the questions within the time frame
Read instructions carefully during the test
Make sure you can divide your time wisely between the questions
IELTS Writing Section Preparation Tips
For IELTS Academic test, practice on different types of graphical descriptions and try to analyze them
For the IELTS General test, you should look for model letters and understand the way they are constructed.
Practice IELTS essays online. Read the essays available on internet to understand the vocabulary and structure of the test.
Practice writing in your own words.
IELTS Score
The IELTS score is reported in a band ranging from 1 to 9.
The overall score is equal to the average of scores of the four parts.
Scores can be given in 0.5 increments for each of the section
Limit your essay to 350 words for IELTS academic & 150 words IELTS general section.
A score of overall band 8 is considered good for all purposes. So plan and prepare to get IELTS Band 8
| | | |
| --- | --- | --- |
| Band | Skill Level | Meaning |
| Band 9 | Expert user | Has fully operational command of English language and usage is appropriate, accurate, and fluent. |
| Band 8 | Very good user | Fully operational command with only occasional unsystematic inaccuracies and inappropriate usage of English language |
| Band 7 | Good user | Operational command, with occasional inaccuracies and misunderstandings in some situations |
| Band 6 | Competent user | Effective command, with some inaccuracies, inappropriate usage and misunderstandings of English language |
| Band 5 | Modest user | Has partial command & are likely to make many mistakes but copes with overall meaning in most situations |
| Band 4 | Limited user | Have frequent problems in understanding & are not able to use complex language |
| Band 3 | Extremely limited user | Conveys & understands only general meaning thus frequent breakdowns occur in communication |
| Band 2 | Intermittent user | Has great difficulty in understanding spoken & written English |
| Band 1 | Non-user | Has no ability to use the English beyond a few words |
| Band 0 | Did not attempt the test | The test taker did not take the test or not answered all the questions. |
IELTS Score Validity Period
Your IELTS score is valid for two years after you obtain your IELTS results.
IELTS Result
IELTS exam result will be available within 13 business days from the test date. The result will be issued in Test Report Form (TRF) format. The TRF shows your scores in all four sections: Reading, Listening, Writing & Speaking, along with your overall band. All five scores are given on a 9-Band scale.
How many attempts can be given for IELTS?
There is no limit for attempts in a year set by the conducting bodies of IELTS to take the IELTS exam. You can take the IELTS test as many times as you want. And, you need to pay fee for the IELTS test for every attempt. It would be helpful and easier if you enroll for Intensive IELTS Coaching.
IELTS Dates
The IELTS Test dates can be chosen all through the year. You have to book early as test centers are assigned on a first come first served basis
You should chose the test date at least a month in advance
Check the dates for both British Council, and IDP test dates.
Most of the test centers are open throughout the year
IELTS Registration
Registration for IELTS test can be done through one of the following ways
Through phone
By fax
By email
You will need to have a valid passport and be above 16 years of age to register for the IELTS Exam